Michael Phelps Becomes Greatest Olympian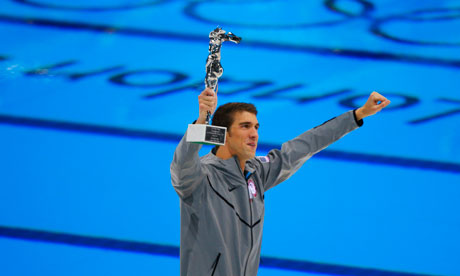 Michael Phelps marks the end of his Olympic career with the trophy awarded to him as the most decorated Olympian.
With 22 medals and 18 gold medals, USA swimming legend Michael Phelps becomes not only the greatest swimmer of all time, but the best Olympian to ever grace the Games.
Usain Bolt Sweeps 100 and 200 For Second Consecutive Olympics
He came, he saw and  he conquered.
The 2012 London Games saw Jamaican Usain Bolt confirm himself as a legend—taking gold medals in three different events, the 100-meter, 200-meter and 4x100-meter races.The same trio of events he won at the Beijing Olympics four years previous.
Oscar Pistorius: The Bionic Man Inspires
While many of the athletes on best olympians' list are gold, silver or bronze medal winners, sometimes it's not the medal that makes a champion. That's definitely the case for double amputee South African sprinter Oscar Pistorius.
The runner was born without fibulas so his legs were amputated from below the knee before he was one. But that didn't stop him from becoming an athlete.
Pistorius' competitive career came after he was outfitted with a pair carbon fiber blades, which allowed him to race. Not content with racing against the disabled, Pistorius successfully lobbied the International Olympic Committee to allow him to compete with non-disabled athletes, making him the first to do so in Olympic history.
Oscar ran valiantly in several events, including the 4x400m relay, but walked away empty-handed. Still, given the odds stacked against him from birth, coming as far as he has is its own reward.
If you can't find inspiration in that, then your soul is probably dark and disturbed. Oscar shall, and has, overcome.