To be issued on 22 February 2010
Hi ! In today's Post I wish to share a beautiful stamp to be issued by Poland in honour of great Romantic Composer, Chopin.As a music lover it's a great pleasure to share some more information about the Prince of Romantic Music. As I had always written about Polish Stamps that they are one of the most beautiful stamps of the world. So this issue and its FDC is also wonderful portraying the great Pianist.It is 200th Birth Anniversary Celebration of this great musician. He is widely regarded as the greatest Polish composer, and ranks as one of music's greatest tone poets.This post is dedicated to all music Lovers of the world who find tranquility in listening to sweet melody and great philatelic tributes to Chopin, the Great Composer of all Time !! This is all in this Post….Till Next Post…Have a Great Time !!
Just listen to this masterpiece….
http://uservideos.smashits.com/video/mrq0flXHWyM/The-very-best-of-Chopin.html
http://uservideos.smashits.com/video/PGaChKRlu8Y/Chopin-Nocturne-in-E-flat.html
"We may be sure that a genius like Mozart, were he born today, would write concertos like Chopin and not like Mozart." - Robert Schumann
Fryderyk Franciszek Chopin, the Polish composer and pianist, was born on 1 March 1810, according to the statements of the artist himself and his family, but according to his baptismal certificate, which was written several weeks after his birth, the date was 22 February.
A bust of piano composer Frederick Chopin at the Musical Academy in Warsaw, Poland. This year Poland is celebrating with great pomp the 200th birthday anniversary of virtuoso Chopin, born near Warsaw in 1810.
Chopin was born in the village of Żelazowa Wola, in the Duchy of Warsaw, to a French-expatriate father and Polish mother. He was considered a child-prodigy pianist. The musical talent of Fryderyk became apparent extremely early on, and it was compared with the childhood genius of Mozart.On 2 November 1830, at age twenty, he left Warsaw for Austria, intending to go on to Italy. The outbreak of the Polish November Uprising seven days later, and its subsequent suppression by Russia, led to his becoming one of many expatriates of the Polish Great Emigration.
In Paris, Chopin made a comfortable living as a composer and piano teacher, while giving few public performances. Chopin's compositions were written primarily for the piano as solo instrument. Though technically demanding, they emphasize nuance and expressive depth rather than sheer virtuosity. Chopin invented musical forms such as the instrumental ballade and was responsible for major innovations in the piano sonata, mazurka, waltz, nocturne, polonaise, étude, impromptu and prélude.
Chopin's Stylish Autograph
Chopin, according to Arthur Hedley, "had the rare gift of a very personal melody, expressive of heart-felt emotion, and his music is penetrated by a poetic feeling that has an almost universal appeal.... Present-day evaluation places him among the immortals of music by reason of his insight into the secret places of the heart and because of his awareness of the magical new sonorities to be drawn from the piano.
Chopin's music for the piano combined a unique rhythmic sense (particularly his use of rubato), frequent use of chromaticism, and counterpoint. This mixture produces a particularly fragile sound in the melody and the harmony, which are nonetheless underpinned by solid and interesting harmonic techniques. He took the new salon genre of the nocturne, invented by Irish composer John Field, to a deeper level of sophistication. Three of Chopin's twenty-one Nocturnes were only published after his death in 1849, contrary to his wishes. He also endowed popular dance forms, such as the Polish mazurek and the Viennese waltz, with a greater range of melody and expression.
Chopin's mazurkas, while based somewhat on the traditional Polish dance, were different from the traditional variety in that they were suitable for concerts halls as well as dance settings. With his mazurkas, Chopin brought a new sense of nationalism, which was an idea other composers writing both at the same time as and after Chopin would also incorporate into their compositions. Chopin's nationalism was a great influence and inspiration for many other composers, especially Eastern Europeans, and he was one of the first composers to clearly express nationalism through his music. Furthermore, he was the first composer to take a national genre of music from his home country and transform it into a genre worthy of the general concert-going public, thereby creating an entirely new genre.
Chopin was the first to write ballades and scherzi as individual pieces. He also took the example of Bach's preludes and fugues, transforming the genre in his own Préludes.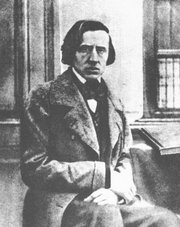 The only known photograph of Frédéric Chopin, taken during the degenerative stages of his tuberculosis
Death and Funeral
By the 1840s Chopin's health was rapidly deteriorating. Chopin died, officially, of tuberculosis in 1849. He had requested that Mozart's Requiem be sung at his funeral, held at the Church of the Madeleine. The Requiem has major parts for female singers but the Madeleine had never permitted female singers in its choir. The funeral was delayed for almost 2 weeks while the matter raged, the church finally relenting and granting Chopin's final wish. Although Chopin is buried in the Père Lachaise cemetery in Paris, his heart is entombed in a pillar in the Church of the Holy Cross in Warsaw.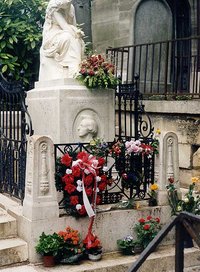 The grave of Chopin in Paris
Epilogue
Every year, many inspired tourists visit Chopin's grave to pay their respects. To this date, his music has been performed and recorded very frequently. The Composer of Poland is known as one of the best composers of the Romantic period; ironically, he did not consider himself of this group. He was the Poet of the Piano, and the intense expression and emotion present in his music is the cause of this common belief. Anyhow, his music has fuelled the inspiration of millions of musicians and will certainly continue to do so for quite some time.
Simplicity is the final achievement. After one has played a vast quantity of notes and more notes, it is simplicity that emerges as the crowning reward of art.
                                                                                                                                     - Frédéric François Chopin